On the 17th of November 2022, the PROTECT project team organised its first project conference as a side event of the Smart City Expo World Congress (SCEWC) that took place in Barcelona from November 15th to 17th.
PROTECT is a project funded by the European Commission in the framework of the HORIZON EUROPE programme under Grant Agreement Number 101060592. PROTECT supports urgent action for climate adaptation, mitigation and resilience. It enables public authorities to use state-of-the-art public procurement approaches in order to identify solutions – climate services based on Earth Observation – that best fit the specific and systemic needs of the public demand. The focus is on five application domains, namely: Energy & Utilities, Sustainable Urban Communities, Agriculture, Forestry and other Land use, Marine and Coastal Environments and Civil Security and Protection.
For its 2022 edition, the SCEWC hosted more than 40 000 participants, 700 cities, 140 countries, and 800 exhibitors around 8 tracks: enabling, technologies, energy & environment, mobility, governance, living & inclusion, economy, infrastructures & buildings and safety & security.
The PROTECT team attended the three days of the SCEWC with the goal to build the project visibility and promote the project beyond its dedicated event. The PROTECT team was able to connect directly with 55 representatives from 20 innovative cities and regions and 35 companies falling into the scope of the project, who expressed strong interest in the project and its activities. All stakeholders met were invited to attend the PROTECT conference held on the morning of the 17th of November.
The PROTECT conference notably gathered representatives from cities and regions from all over Europe, including Helsinki, Bratislava , Haarlem, Grenoble and Flanders region and many more. In an intimate setting, participants were invited to discuss how can Pre-Commercial Procurement (PCP) and Earth Observation (EO) can help them tackle climate change adaptation and implement mitigation measures and shape the next generation climate change services.
PROTECT Project Director Marc Pattinson from G.A.C. Group in his introduction to the event highlighted the importance of helping cities to both define their needs and to cooperate with each other. Defining challenges and finding solutions can be shared and implemented intelligently thanks to PCP.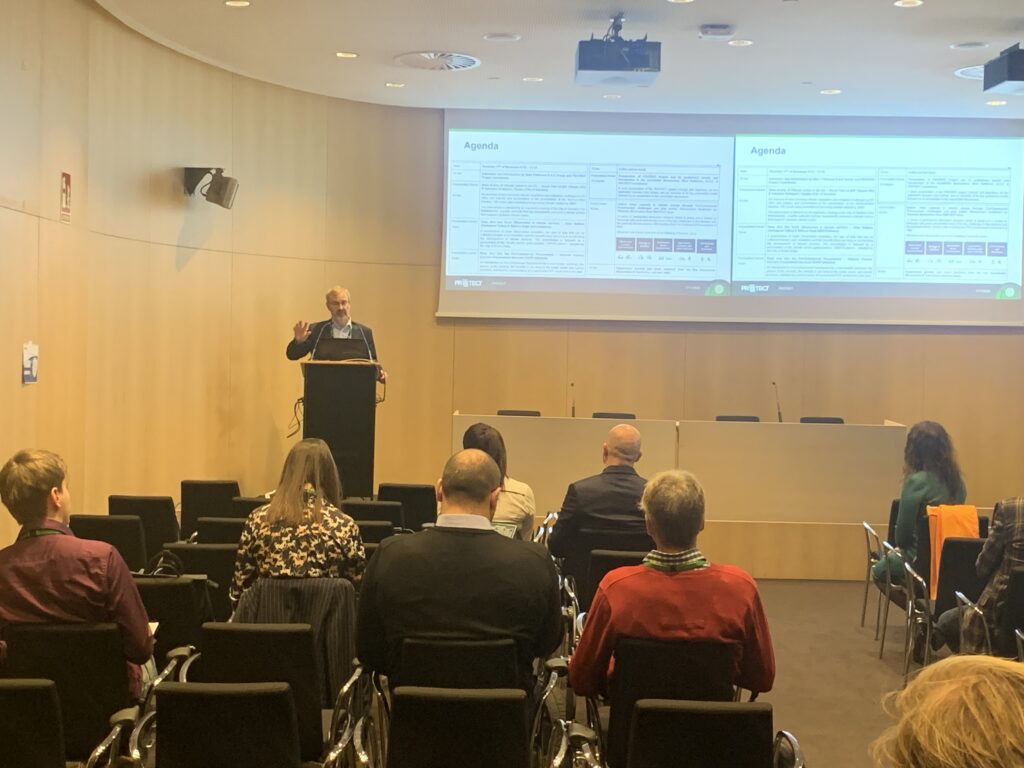 The first part of the event was aimed at setting the scene and raising awareness about the key thematic areas and the key activities of the PROTECT project. PROTECT partners  Thanh-Tâm Lê (EIT Climate KIC), Alice Guibert (Aerospace Valley) and Stefano Bagli (Gecosistema) shared their vision and insights into climate change adaptation and mitigation policies and actions, EO data and climate services potential. The different phases of a Pre-Commercial Procurement process and the benefits that can be secured  were  presented by Stephan Corvers (Corvers procurement services). The plenary session ended with a presentation of concrete examples of climate services policies and initiatives from  the city of Haarlem (the Netherlands) and the city of Rimini (Italy).
Following the plenary session, participants were invited to take part in an open discussion regarding the challenges faced by sustainable urban communities. Participants share several concrete examples of how EO can support cities. Bratislava city spoke about the issues regarding the dumping of illegal waste, including dangerous substances such as flammables that can cause fires. Some waste may include hazardous chemicals and spread contaminated substances after heavy rainfall. Helsinki City mentioned that in order to have a more circular approach, they incinerate their waste and reuse the heat created. And nowadays, they are transitioning to more sustainable systems by recycling plastic and separating the waste collection. In a similar situation in the region of Flanders, the heating systems are derived from the incineration of waste. Currently, they have ongoing projects related to sharing heat and working on organising low-cost heating solutions for residents.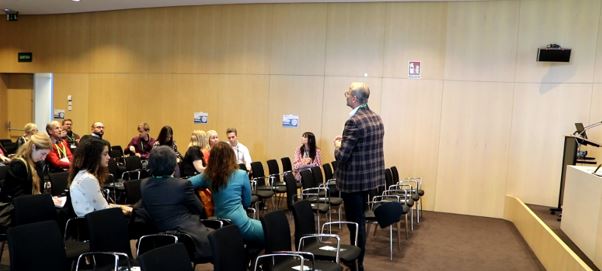 How can Earth Observation help Cities deliver their climate adaptation policies and support green transition agenda?
EO data and tools are high-potential and valuable decision-making tools for supporting national, local and regional governments in the planning and tracking of their public policies' implementation and monitoring of their progress towards the United Nations Sustainable Development Goals.
While some cities aim to be carbon neutral by 2030, one of the main difficulties EO data can help address is the transition to sustainable processes. Indeed, there are several possible applications for EO. For instance, policy makers from Helsinki cited the case of winter maintenance which  is  costly and time-consuming. EO might be helpful in this situation by providing a solution that would reduce pollution and reducing the possibility of snow removal damage.
Similarly, EO may be used to monitor illegal dumping, such as burning waste, and could help identify the illegal dumping in real time without requiring an inspector to go on the spot. EO could also be used as a warning system to anticipate problems and inform decision-makers about suspicious and potentially contaminated illegal dumping. A similar approach could be adopted before implementing significant water, heat, and road infrastructure projects, to consider how to monitor and evaluate the actions taken. EO might assist with establishing strategies, policies, and measurements for the impacts of this project on the city.
These are many other use cases can provide the basis for developing shared policy and procurement solutions. Next year within the EC's draft Horizon Europe funding programme a number of PCP type initiatives will be supported, such as the call (HORIZON-CL6-2024-GOVERNANCE-01-5: Customisation/pre-operationalisation of prototypes end-user services in the area Climate Change Adaptation and Mitigation)
Useful links: