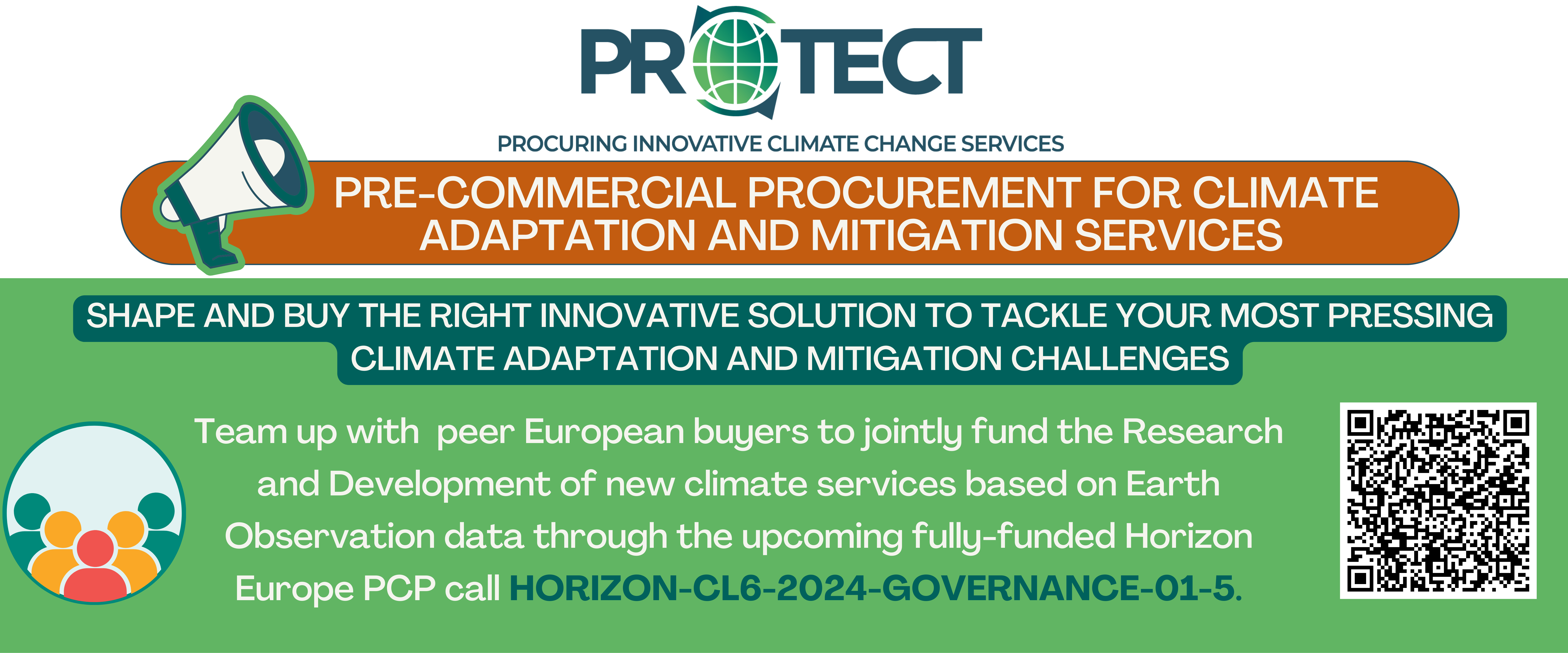 Horizon Europe aims to boost the uptake and use of climate services by public authorities and to encourage and support them to have a more strategic and systemic approach to their procurement of climate services, using innovation procurement, especially PCP (pre-commercial procurement). A PCP is a joint procurement of research and development services that allows for risk-benefit sharing between procurers and providers according to market conditions and competitive development of relevant solutions in phases, with clear separation of the R&D phase from the deployment of commercial volumes of end-products.
On 17 October 2023, the European Commission will open a call to fund one, possibly two PCP for prototype end-user climate services, building on the Copernicus Services. The selected PCP will deliver successful innovative, and fully tested products or services that meet the common needs of a consortium of (mostly public) procurers across Europe. The budget envelope foreseen for this call is up to €19m.
The description of the call is available here on the EC Funding & tender opportunities portal.
The expected Outcomes of the PCP call are :
Customisation/pre-operationalisation of prototypes end-user services in the area Climate Change Adaptation and Mitigation, building on the Copernicus Services that respond to the common needs and beyond state-of-the-art performance targets of the buyers group;
Reduction of fragmentation of demand for innovative solutions by enabling public procurers to collectively implement a Pre-Commercial Procurement (PCP) in the area of climate adaptation and mitigation, which, due to their nature, are better addressed jointly, or which they would not have been able to tackle independently;
New opportunities for wide market uptake and economies of scale for the supply side through the use of joint specifications, wide publication of results and – where relevant – contribution to standardization, regulation or certification to remove barriers for introduction of innovations into the market and creation of new products, processes and/or services ready for market uptake, leading to viable new businesses, jobs and sustainable economic growth.
Stay tuned and do not miss the following events organised by the European Commission!
To join a Buyer Group and/or apply for on-demand consultation services, please fill in the following information: